Sometimes, we are faced with clinical cases and/or critical care cases that can serve as excellent teaching lessons for students, lay people, and even our colleagues.  These revolve around interesting animals, circumstances, and/or challenges that we have to face, problem solve through, and try to resolve for the best of the animal in question.  The papers in this section share the details of these cases – background / case history, problem solving approach, initial / final results of the approaches, etc.  It is NOT a section where every presentation has resolution, rather the focus is on the problem solving thought process(es) and generating discussion.  It can be an avenue to solicit suggestions from the audience of our peers on difficult cases that have not been resolved or it can be a case presented to highlight creative problem solving for a difficult case.  Abstracts are requested for these cases, written in such a way as to guide the discussions, rather than reveal the final resolution (if one even exists).
EXAMPLE Abstract
WHAT GOES AROUND COMES AROUND. THE CASE FOR TRANSFAUNATION.
Mike Maslanka, MS,1 and Amanda Guthrie, DVM, Dipl. ACZM2
1 Department of Nutrition Science, Smithsonian Conservation Biology Institute, Washington, DC, USA
2 Virginia Zoo, Norfolk, VA, USA
Two red pandas (Ailurus f fulgens) were born at the Virginia Zoo in June 2014. One weaned as expected and consumed "normal" amounts of a diet which included bamboo, nutritionally complete feeds, and produce. The other weaned onto bamboo, and would not consume any of the other diet ingredients. At six months of age, the animal was found hypothermic and hypoglycemic, and had lost weight (weighed 0.9 kg at 6 months of age). Veterinary treatment was initiated quickly to stabilize the animal which included fluids, antibiotics, and tube feedings. Many options were tried to encourage consumption of something in addition to the bamboo to no avail. Usually not even on the list of alternative food items to try is feces. However, with so many probiotics on the market now, espoused for their ability to improve human health, why would we not consider getting the bacteria right from the best source possible – a healthy conspecific?
Points to discuss:
Has anyone used transfaunation with their collection? Which animals and to what end?
Would we consider there to be a downside of this option in any situation?
Do you have collection animals now that might benefit from this? Who and what is the situation?
How to overcome challenges with delivery?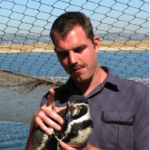 The ZWNF Roy McClements Student / Keeper Competition
The Zoo and Wildlife Nutrition Foundation (ZWNF) is a non-profit organization established for the purpose of:
contributing expertise and providing funds to support zoo and wildlife nutrition programs worldwide,
furthering the science of zoo nutrition,
facilitating the dissemination of nutrition knowledge, and
developing the next generation of zoo nutrition leaders
Roy McClements, PhD. was dedicated to improving the care of captive animals and contributing to their conservation by incorporating science into their management.  A true comparative nutritionist, but also a multidisciplinary scientist, his work encompassed nutrition and reproductive success in penguins and Attwater's prairie chickens, body condition scoring in Asian elephants, supplementing insects and a multidisciplinary project incorporating genetics, large herd health and management, and land resource sustainability. Roy inspired many students not only teaching at the University of Sydney and Tarleton State as a faculty member, but also through his interactions at zoo events and nutrition conferences.  As a tribute to Roy, and his dedication to students, the ZWNF/Nutrition Advisory Group has named the student paper competition in his honor.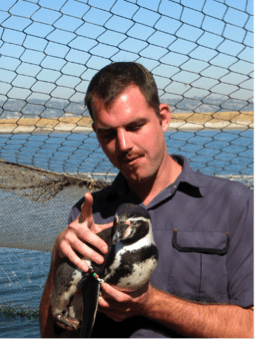 The ZWNF Roy McClements Student / Keeper Competition is designed to recognize excellence in oral and written nutrition presentations at the ZWNF/Nutrition Advisory Group Conference. Awards for the top one to three presentations in each category will be made, and awards up to $800 will be provided (award number and value dependent on number of applicants) at the NAG conference banquet.
Requirements:
Full paper submission to the ZWNF/NAG conference

Applicant may choose to have full paper or abstract only published in conference proceedings, but full paper is required for consideration and will be used during the evaluation process

Oral or poster presentation at the ZWNF/NAG conference
Must be either a current student pursuing a degree, or a keeper or zoo staff member in non-leadership position
To apply, submit a paper for the annual ZWNF/NAG conference. The deadline for submission for the 2017 biannual conference is June 23, 2017. During the submission process, choose the option to be considered for this award. In the "Comments" section, please detail your position (e.g., student, keeper, staff member) to confirm eligibility.
Evaluation Criteria:
Proposals will be evaluated by members or designees of ZWNF and AZA NAG. Anyone related to, or a supervisor of an applicant, will be excluded from the selection process. Evaluation rubric is available upon request, by emailing Dr. Brian Rude: Rude@ads.msstate.edu.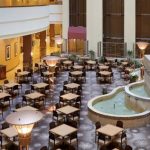 The conference is over.  Thank you for your participation.
Embassy Suites Hotel Dallas-Frisco & Conference Center
Hilton Garden Inn Frisco
7550 Gaylord Parkway
Frisco, Texas 75034
Home2 Suites by Hilton Dallas-Frisco, TX
2000 Parkwood Boulevard
Frisco, Texas 75034
Hotels include complementary breakfast and wifi.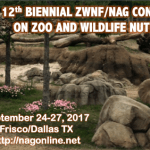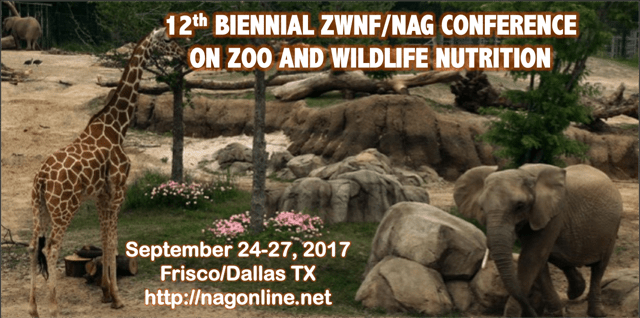 Howdy, Folks!  Welcome to Texas!  Come explore the wild and wooly world of zoo nutrition in Frisco, TX, hosted by the Dallas Zoo. Join us and the American Association of Zoo Veterinarians to hear all the latest advances in the field of zoo and wildlife nutrition.
Frisco, TX is 25 miles north of Dallas/Ft. Worth, and is home to the National Railroad Museum and a slew of stadiums for all you sports fans, and don't miss the National Videogame Museum(!).  Even better yet, take in the lovely Ft. Worth and  Dallas Zoos just a few miles away.
Book hotel  Submit your paper  Register!
GENERAL SCHEDULE
Download the Detailed Schedule
Saturday, Sept. 23

4:30 – 5:30 pm:

Registration in hotel lobby
6:00 pm: NAG steering committee meeting (location TBD)

Sunday, Sept. 24

8:00 – 9:00 am: Registration at conference center
9:00 – noon: Workshop
noon-2 pm: Lunch on your own
2:00 – 4:00 pm: Workshop continued
3:00 pm – ?: Poster setup
4:00 – 5:00 pm: Registration
6:00 pm: Icebreaker

Monday, Sept 25

7:00 – 7:45 am: Registration
8:00 – 8:15 am: Joint Welcome
8:20 – 10:15 am: NAG session 1
10:20 – 10:50 am: Poster session
10:50 – 2:55 pm: NAG session 2
Lunch on your own
NAG session 3
2:55 – 3:25 pm: Poster session
Dinner on your own
7:00 – 9:00 pm: SCARF benefit

Tuesday, Sept 26

NAG session 4
9:35 – 10:00 am: Posters/Break
noon: Depart for zoo

Wednesday, Sept 27

NAG session 5
9:35 – 10:20 am: Break/Exhibits
NAG session 6
Lunch on own
NAG session 7
3:20 – 4:00 pm: Break/Exhibits
Membership Meeting
6:00 pm: Banquet
WORKSHOP
Sunday September 24, 2017
Workshop: "Produce Classification: Revolutionary Considerations for Improving Zoo Animal Diet Formulation" 9 am- 4 pm.
Commercially-available fruits rarely mimic fruits consumed by free-ranging wildlife.  What are the implications for diet formulation and produce selection for optimal health of the animals in our collections? This workshop aims to tackle these questions through presentation and discussion, with the goal of producing consensus recommendations for how to standardize produce classification for zoo nutrition diet formulation. The program will begin with invited speaker Erin Vogel, Ph.D, who will discuss her work on food acquisition and diet selection in non-human primates, with an emphasis on the nutrient composition of free-ranging fruits and overall diet in those species. A series of talks will follow Dr. Vogel's presentation on the classification systems of produce currently in use by various institutions.  After a break for lunch (12-2pm, on your own), the afternoon session consists of a discussion and breakout into working groups to assemble/organize data providing categories/charts that can be adapted for use at your home institution.
Erin Vogel, Ph.D., is an associate professor at Rutgers University.  She is a primate dietary ecologist with a primary interest in factors that affect food acquisition and diet selection in non-human primates. In particular, she studies how primates have adapted to maximize energy intake in the face of variable environments by examining the behavior, morphology, and physiology within an ecological context.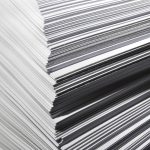 Instructions for Authors
We strongly encourage submitting full articles (either primary research or review articles). Abstracts are acceptable if you have plans to publish full documents elsewhere.  Case discussions are a way to think through clinical cases and nutritional dilemmas with our group.
NEW this year:

Please upload a photo related to your paper.  This helps draw attention to your article and makes our website more compelling!
Author bios: AAZV will include this in their program

Please download and use the NAG Instructions to Authors file as a template to ensure your paper is formatted correctly.  You can see a formatted paper here.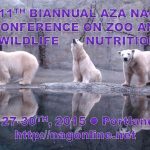 [standout-css3-button href='http://nagonline.net/2015-conference-registration/' cssclass='nagonlinevariablewidth']Register[/standout-css3-button][standout-css3-button href='http://nagonline.net/2015-abstract-submission/' cssclass='nagonlinevariablewidth']Submit Abstract[/standout-css3-button][standout-css3-button href='http://nagonline.net/?p=3071′ cssclass='nagonlinevariablewidth']Hotel Info[/standout-css3-button]
Come visit us in the Land of Weird, Portland, Oregon, as we discuss the diets of all the Weird Animals of the World.
Portland is the home to the Oregon Zoo, which has been undergoing several updates thanks to a $125 million dollar Bond Measure passed by the voters. Some of the new additions you will get to experience and tour are the new Veterinary Medical Center, the new Condors of the Columbia Exhibit, and just in time for the Conference our new Elephant Lands exhibit including our new Elephant Building & Forest Hall, which will form one of the world's largest indoor elephant facilities.
In Portland, there are many things to do that include visiting our International Rose Test Garden, the Japanese and Chinese Gardens, the many waterfalls and nature parks, the downtown Markets, Food Carts, the largest independent bookstore Powell's Books, and our Art, Science, or Children's Museums. It promises to be a good time. We look forward to seeing you there.
Additional details will be posted here as they become known. Please contact Matt Brooks with any questions.
Schedule
[stextbox id="info" caption="Update!" collapsing="false" collapsed="false" bcolor="33AD5C" bgcolor="D7FFD1″ cbgcolor="33AD5C" bgcolorto="D7FFD1″ cbgcolorto="33AD5C"]Click here for 
Detailed schedule with speaker times
[/stextbox]
Sat, Sept. 26th

Registration
NAG Steering Committee meeting

Sun, Sept. 27th (Conference begins)
Mon, Sept. 28th

Scientific session in AM
Scientific session in PM
SCARF Benefit in Evening

Tue, Sept. 29th

Scientific session in AM
Zoo Day in PM

Wed, Sept. 30th

Scientific session in AM (Joint session with AAZV from 8 – 9:45 am)
Scientific session in PM
Members meeting & banquet in evening
[standout-css3-button href='http://nagonline.net/2015-conference-registration/' cssclass='nagonlinevariablewidth']Register[/standout-css3-button][standout-css3-button href='http://nagonline.net/2015-abstract-submission/' cssclass='nagonlinevariablewidth']Submit Abstract[/standout-css3-button][standout-css3-button href='http://nagonline.net/?p=3071′ cssclass='nagonlinevariablewidth']Hotel Info[/standout-css3-button]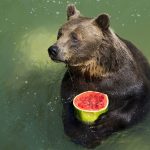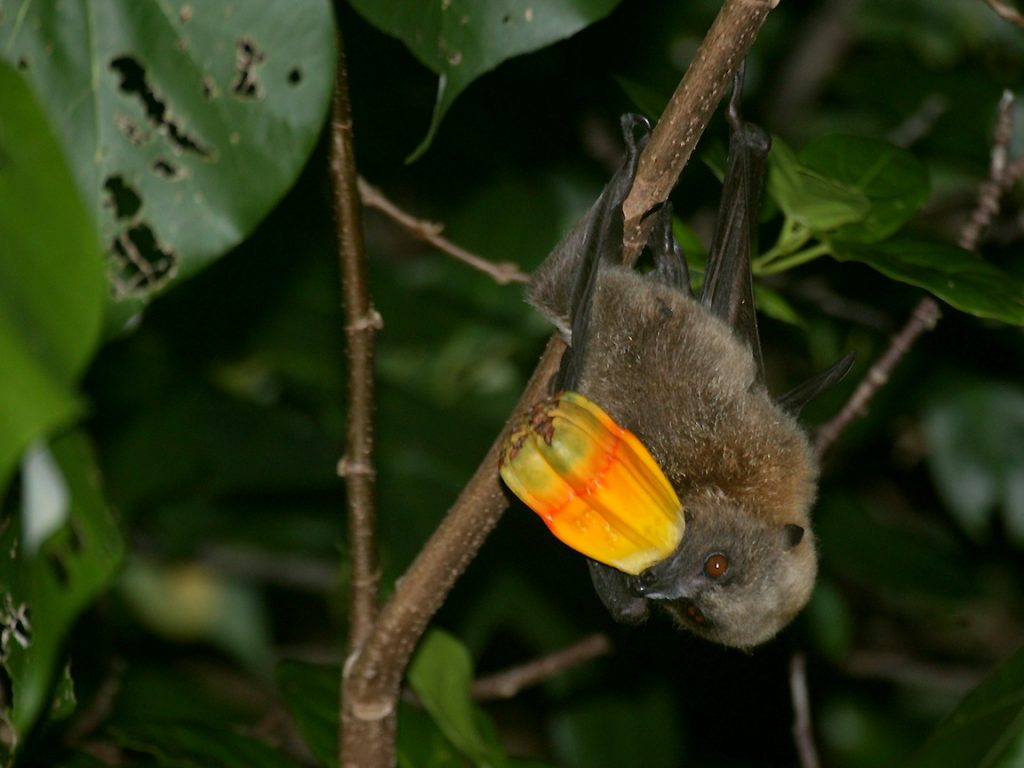 Behavior-oriented enrichment programs allow zoo and aquarium staff greater freedom to explore solutions that are species-appropriate and true to an animals' natural history.  Animal enrichment philosophies at many exotic animal institutions are undergoing a sea change – from an "object-centered" mindset (e.g., "I have a ball, now what can I do with it?") to a "behavior-centered" approach (e.g., "I want to encourage habitat exploration and play – what tools are at my disposal?").
Join us at the Oregon Zoo for this day-long workshop that brings a "behavior first" mentality to food enrichment.  Interact with specialists in the field as we learn and discuss new approaches and how to apply them to your institution.  The day will begin with a plenary presentation by Jessica Sheftel, Enrichment Supervisor at the San Diego Zoo and Safari Park.  On-grounds demonstrations, group discussion, and informal presentations will touch on multiple topics, including managing food enrichment as an integrated part of the diet, and use of whole carcass feeding as a way to elicit natural behavior.
The workshop, held throughout the zoo, will feature several demonstrations, including:
Caracal Basketball
Using Ziplines – aka, the Flying Fish
Live Crab Feeding – Sea Otters at Work
Carcass Feeding – Is that a Water Buffalo?
And more!
Come join us for the day!
About the instructors: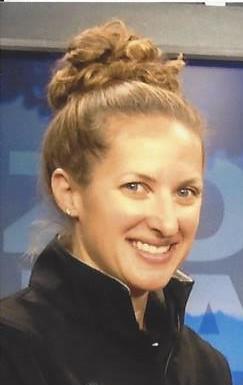 Jessica Sheftel is the Enrichment Supervisor at the San Diego Zoo and Safari Park.   Hailing from Newton, IA she received her B.A. in Physical Anthropology and Behavioral Studies from Beloit College in Wisconsin.  While at Beloit College, Jessica studied abroad in Tanzania, Africa where she developed a passion for research and natural history.  After college, she made her way south to Zoo Atlanta where she started her career researching gorilla, orangutan and golden lion tamarin behavior.  An opportunity to work with language trained bonobos led her to Georgia State University's Language Research Center where she assisted with research, enrichment scheduling and explored ape cognition.  As an avid fan of the beach and top notch zoos she soon made her way to San Diego where she started as a part time keeper and quickly made her way through the ranks of Senior and Lead Keeper.  In 2013 she secured a brand new position to San Diego Zoo Global, Enrichment Supervisor.  Jessica continues to explore and promote the importance of species natural history, challenge and novel approaches to husbandry from coconut crabs to elephants.  She considers herself fortunate to have a job she loves and uses
her skills to enhance the welfare of captive animals
There are several major zoo nutrition conferences:
NAG – Nutrition Advisory Group: odd years, typically during autumn
CNS – Comparative Nutrition Society: even years, typically during summer
ENG – EAZA (European Association of Zoos and Aquaria) Nutrition Group: even years, typically during winter
CNS 2014
Highland Lake Inn, Flat Rock, North Carolina, U.S.A
From the opening reception Friday evening 1st Aug, to the closing banquet on the 5th, the Symposium will be held at the beautiful Highland Lake Inn (
www.hlinn.com
) in Flat Rock, 
North Carolina, U.S.A
. Join us for a unique 3½ days of interactive sessions in a relaxed, all-inclusive environment, with a free half day to explore the local attractions. Details for online registration, lodging reservations, and abstract submittal available soon – special reduced registration rates for students. 
The Comparative Nutrition Society welcomes multidisciplinary scientists interested in any aspect of nutrition – with no bias towards any particular species (human, wildlife, pets, livestock, exotics), stratum (molecular to ecosystems) or syndrome – as we celebrate 20 years of integrative nutrition together!   
Please share this information widely with interested colleagues. Current Members: if you'd like to assist on the Symposium's Scientific Program Committee, please contact CNS Secretary Ellen Dierenfeld (
edierenfeld@aol.com
).
http://www.cnsweb.org
[stextbox id="warning"]This conference is not hosted by NAG.  Please visit CNS's website to register for this conference.[/stextbox]
[stextbox id="warning"]This conference is over.  Stay tuned for upcoming conferences.[/stextbox]
AZA NAG Tenth Conference on Zoo and Wildlife Nutrition (in conjunction with AAZV)
Salt Lake City, Utah
Basics:
The AZA Nutrition Advisory Group in conjunction with the American Association of Zoo Veterinarians is holding its tenth conference on zoo and wildlife nutrition in Salt Lake City, Utah from Sunday, September 29th through Wednesday, October 2nd, 2013 at the Sheraton, Salt Lake City.
Registration:
We'll have registration on Sunday between 1000a-1200p and on Monday morning between 0630a-0730a.  IF you get in later in the day on Sunday, we will be at the registration table from 600-630p that evening to register folks before the icebreaker (not previously listed on the schedule). 
Location for meeting: It looks as if we will be in a fairly large room this year (Wasatch Room), in close proximity to the AAZV room and posters.  We hope this will promote additional vet participation in our sessions, and foster overall better communications. The opening session and talk will be with the AAZV group in the Arches/Canyons Ballroom. 
SCARF Benefit.
Remember to try to bring items for the SCARF benefit raffle, if you can.

The SCARF benefit event, that includes the raffle,  will be on Monday evening in our meeting room at 7:00pm.

The event will be a "bit different" from anything we have done in the past – board and table games with a bar and snacks.

Bring a game that fits in your luggage (note: "Twister" does not fit in anyone's luggage) and plan on a fun evening with colleagues and friends, to help benefit a good cause (there'll be a reasonable "cover")
NEEDED for SCARF benefit:
IF you are driving to the meeting, and IF you have a cornhole set you can bring, PLEASE contact me off list.  Yes, I am being serious.
 Weather:
Highs in the 70's, lows in the 50's, not much chance of rain – so unless you live in San Diego, the weather is likely going to be better there than where you live.
Scroll Up