2019 ZWNF/NAG Conference on Zoo and Wildlife Nutrition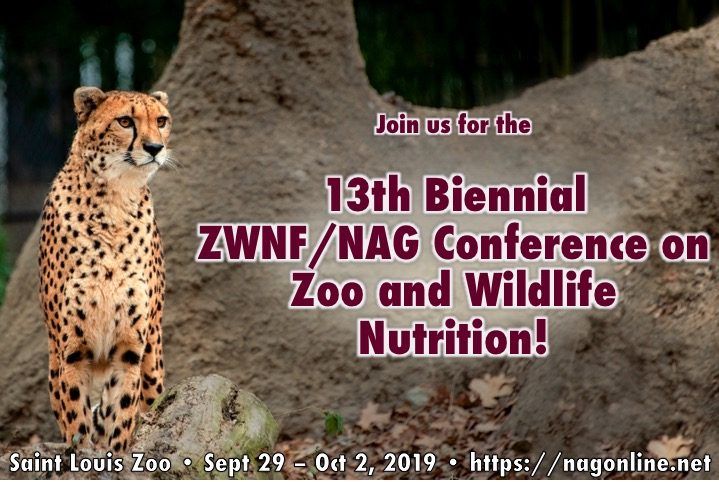 2019 NAG Conference hosted by the Saint Louis Zoo jointly with
American Association of Zoo Veterinarians (AAZV)
Association of Avian Veterinarians (AAV),
Association of Reptile and Amphibian Veterinarians (ARAV)
Association of Exotic Mammal Veterinarians (AEMV)
Association of Fish Veterinarians (AAFV) 
We can't wait to host you for the Nutrition Advisory Group conference in September and share with you all the wonderful things about the city of St. Louis. After the conference, spend a few extra days to ride to the top of the arch, visit the Endangered Wolf Center, tour the Anheuser-Busch Brewery, ride the new SUPERGIRL attraction at Six Flags or enjoy a myriad of other attractions St. Louis has to offer.
Dates: Sept 29 – Oct 2, 2019
Location: St. Louis, MO
Book hotel
Submit your paper [closed]
Register now
Wednesday, July 3, 2019 – Abstract Submission Deadline
GENERAL SCHEDULE
Sunday, Sept. 29
Monday, Sept 30
Tuesday, Oct 1
Wednesday, Oct 2
WORKSHOP "Assessing the Nutritional Health & Welfare of Animals"
Sunday Sept 29, 2019
Both AZA and WAZA have stated that nutrition is one of the five pillars of animal welfare, and that "nutritional state" is a core component of the welfare assessment process. 
This workshop will provide key skills and tools for assessing the nutritional status and nutritional welfare of animals.
Topics will include:
Body condition scoring (focus on non-traditional animals such as birds, herptiles, and others)
Interpreting blood panels & diagnostics
Behavioral assessments of feeding practices and feeding behaviors
Fitting into the AZA welfare assessment process
Icebreaker @ City Museum
Sunday Sept 29, 2019
Get to know your fellow nutritionists and vets at this museum described as a "really cool interactive museum" (Deb Schmidt) and "wild, singular vision of an oddball artistic mind" (Wikipedia).