Job posting: Georgia Aquarium Commissary Manager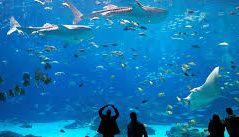 The Associate Manager of Commissary Operations will direct and participate in the daily operations of the commissary and its staff as part of a comprehensive program at Georgia Aquarium to ensure the nutritional health of the animal collection.
Responsibilities:
1. Responsible for ordering of foodstuff for animal diets, including seafood, produce, feeds, supplements, live foods, and operating supplies.
2. Coordinates diet request changes and other feeding requests from Zoological Operations and Veterinary staff.
3. Communicate with Nutritionist regarding animal diet needs and changes to crucial ordering process.
4. Research new products and equipment, negotiate prices with vendors, and solicit competitive bids in order to evaluate new or alternative products.
5. Responsible for coordinating weekly delivery of frozen product from off-site holding facility and evaluating regular inventory stocks while maintaining good inventory practices, including proper in-out stocking, expiration dating and monitoring, and overall quality control of products.
6. Responsible for coordinating, managing, and training commissary staff and volunteers. This includes performance goal setting and evaluation of staff via the performance appraisal process.
7. Responsible for maintaining working knowledge of company safety policies and implementing and developing standard operating procedures as needed.
8. Responsible for maintaining working knowledge of USDA and AZA standards and ensuring all commissary areas are in compliance.
9. Responsible for coordinating quality control sample collection, laboratory sample submission, and data entry.
10. Assists with preparing and managing annual departmental budget.
11. Interacts with staff, volunteers, guests, media and the general public on behalf of, and as an ambassador for, Georgia Aquarium Inc.
12. Performs other duties as required by the Director of Research and Conservation/Nutritionist or the Vice-President of Research and Conservation, or as workload necessitates.
Qualifications:
1. High School diploma or GED (required). Bachelor's Degree (preferred) in biological science, nutrition, or related field.
2. Experience in food preparation and/or warehouse logistics preferred.
3. Two years supervisory experience (minimum), preferably related to staff supervision/management, food/animal, warehouse, or purchasing industries. Equivalent combinations of education and experience sufficient to successfully perform the essential duties of the job will be considered.
4. Basic understanding of animal nutrition and feeding practices is preferred.
5. Forklift training/experience is preferred.
6. Exceptional organizational skills are essential, including effective time management and the ability to set and meet deadlines.
7. Exceptional communication skills are required, including the ability to know when it is appropriate to communicate by which method: face-to-face, telephone, email or text messaging.
8. Familiarity with the Microsoft Office suite of programs is essential.
9. An ability to work independently or as part of a coordinated team is essential, including intrinsic motivation and the ability to effectively manage multiple task streams.
10. Demonstrated professionalism, including politeness, good judgment, effective time management and punctuality, and an appreciation for diversity.
11. Ability to be flexible and shift priorities to meet changing institutional requirements.
Physical Demands & Work Environment:
The physical demands and work environment described here are representative of those that must be met by an employee to successfully perform the essential functions of this job.
Reasonable accommodations may be made to enable individuals with disabilities to perform the essential functions.
While performing the duties of this job, the employee is occasionally required to stand; walk; sit; use hands to finger, handle, or feel objects, tools or controls; reach with hands and arms; climb stairs; balance; stoop, kneel, crouch or crawl; talk or hear; taste or smell.
The employee must occasionally lift and/or move up to 50 pounds 100 feet.
Specific vision abilities required by the job include close vision, distance vision, color and peripheral vision, depth perception, and the ability to adjust focus.
While performing the duties of this job, the employee is exposed to weather conditions prevalent at the time.
The noise level in the work environment is usually moderate.
An employee must also have the ability to travel by car, boat, and air as needed, conduct field work in the collection and research of animals, and maintain daily contact with a living collection of plants and animals.

Apply On-line